The black chips are $100
It started innocently enough at a party when Kick, one of our hosts and the night's professional chef, told us he had a comp stay at the Venetian in Las Vegas. Somehow (details are fuzzy through Melanie's delicious and intoxicating beverages) this turned into an invitation for us to join them. A small craps table materialized and for the next hour we were taught "The Method" which, while not guaranteeing huge wins, did promise to mitigate huge losses. After a brief conference on the car ride home we decided Why not?, and just like that we were off to Vegas.
Ahhhh...Las Vegas. Apparently when the Spanish named the area it was for some bushes a conquistador had stumbled across (this according to
Ryan
). Nary a bush nor tree was in evidence when we dropped out of the clouds and were presented with the spectacle of a giant glowing city in the middle of a dessert. The Luxor pyramid, its single beam of light shooting straight out the top like a demented beacon for aliens, dominated the view.
1. Before we reached Vegas we were told that we would need to see the Mac King show (click on Mac for a video of his show). "You'll love it," they told us, and offered up Melanie's picture with Mac as proof. After a little bribing of the doorman by Kick we were seated near the front and the show began. Mac King practices the kind of magic that was popular before we invaded the jungles looking for tigers with recessive gene patterns. He comes across as a slightly bumbling man in an oversized jacket, but this hides a deft magic touch and generous comic appeal. I don't want to give too much away, but one of his highlights involves a tent, a shadow puppet, and...well...you'll see.
2. Gambling starts literally the moment you step off the plane and enter the airport. Even though I was expecting it it was a strange sight to see people pushing bills into these slot machines - couldn't they wait until they hit the strip? (Further inquiry would reveal that the slots were also the first smoking area).
3. This might sound strange, but Vegas was almost...sterile. A lot of the seediness I had been expecting could only be found in Old Downtown, and even then a lot of it seems to have been washed out. To be honest it was a little disappointing. All hints of sexuality have been removed from the casinos on the strip; even the hookers stay indoors, their advertising tended to by an army of Mexican labourers handing out leaflets, cards, and the offer of "safe and clean" sex. Yikes.
4. On the first night we stayed at the
Imperial Palace
, which has a hit-or-miss roster of celebrity impersonators. The Christina Aguilera was more miss. (The IP was also where we saw a woman walking around, both her breasts having escaped from her bikini top. Her boyfriend had somehow not noticed. Ahem.) For the next three nights we stayed at the
Venetian
, thanks to our friends Kick and Melanie. It is easily the most sumptuous hotel in which I have ever slept.
On the last morning we managed to score one of the gazebos around the pool; that's Selina lying on the mattress.
On the third floor of the Venetian is a replica of Venice, complete with a canal - the ride along it looked like slow torture and cost $12.50 per adult.
5. Now that the Aladdin is renovating into...ugh...a Planet Hollywood, there are fewer and fewer hotels with dedicated themes that influence their entire design. The two best ones are New York, New York and Paris, Las Vegas. The facade of the Excalibur is still pretty cool.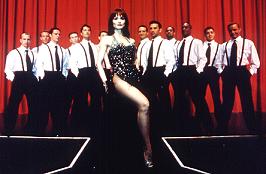 6. One of the many benefits of travelling to Vegas with Kick and Melanie is that they get you into shows for free. Les Folies Bergere, normally $60 per person, was such a show.
AND NOW, A WORD ABOUT GAMBLING
This picture was taken shortly after we had won $180...and then lost $310. It was our first table in Las Vegas, right after we had gotten off the NY NY roller coaster (a must ride in my book.) We made the mistake of starting out at our highest limit right away, and soon learned why Vegas can run 24 hours a day, 365 days a year.
However, after we shook that off we went down to 5 dollar and even 2 dollar tables, and slowly made the money back using
Kick's
system. (THIS PART REMOVED - CLUB MEMBERS ONLY)
AND NOW A WORD ABOUT PARENTING
If you have children under the age of 21, and you bring them to Vegas - you are a bad parent. I don't care why you brought them, or that you take them on all the rides and let them stay at Circus Circus. You are a bad parent. After a while I stopped being surprised when I'd run into a couple pushing a freakin' stroller in the casino or out on the strip at 3 in the morning. It just happened too frequently.
Two of the guys we went down with played in a Black Jack tourney at Fitzgerald's in old Downtown. One of the guys was drinking and backing up when a voice yelled "Hey." He turned around and a woman was there with a stroller. "You almost ran into my baby." Now here is a guy gambling at two in the morning, beer in hand, being told to watch out for babies on a casino floor. While technically not as bad as simply abandoning the kid, it might be close. Awfully close.
Vegas + children under 21 = BAD PARENT
7. That there is the sun rising the morning of our departure, after 6 hours of craps and five or so Tom Collins. I used to say that Las Vegas was the last place on earth I wanted to visit; now I'm counting airmiles and seeing when I can return. It certainly helps to have the right friends and guides, and in Kick and Melanie we had old pros. They showed us all the cool sights, nabbed us all the free stuff, and basically made the trip what it was. Without them it wouldn't have been half as fun, a quarter as interesting, or an eighth as kick ass. Kudos.
Viva Las Vegas indeed.
Anyone wanna go?